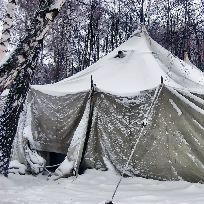 The Alpcon Mobile Air Heater offers a flexible, portable and fuel efficient solution for the heating purposes of personnel and equipment in any type of climate zone and in all weather conditions. The Alpcon Mobile Air Heater:
is self-powered with no need for external power supplies

reduces overall fuel consumption by up to 25%
is lightweight, portable and easy to transport
has low noise levels
offers easy installation and operation
operates on various diesel fuels
The simple and lightweight design of the heater makes it ideal for military and human relief operations (helicopters, tents, shelters, vehicles, and buildings). Furthermore, the simple design with only few moving parts and limited electronics reduces the need for maintenance, increases the lifetime and makes the heater optimal for rough conditions.
The mobile air heater is self-powered and independent of external power supplies and generators. The power needed to run the heater is produced by the integrated HEXTEG technology which generates power without any moving parts. The excess power created by the heater can be used for external electricity purposes such as battery charging, lights or surveillance equipment.
Optimal comfort is ensured by a closed loop air supply and a pocket size battery operates the one-minute cold start. Once running, the heater automatically charges the battery. Furthermore, a remote control system is available for customers who require remote operation of the heater.