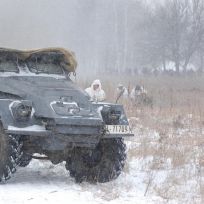 Alpcon's cabin heater offers:
quick and efficient comfort heating as well as long term heating
no battery drainage
extended driving range and battery life
reduced engine wear and fuel consumption
improvement of fuel economy by 10%
Cold climate and remote area conditions often involve increased fuel consumption; for example when trucks run idle to avoid cold start engine wear and when heating is required for the driver's cabin. Traditionally, heating for these purposes have involved increased use of battery or diesel resulting in a number of problems such as limited heating time and the risk of the battery being drained and not able to start the truck.
Alpcon cabin heaters are self-powered and need no external power connection. The benefits compared to traditional solutions are the avoidance of discharged batteries and the extra power generated for whichever purposes deemed fit (battery charging, cabin lights, etc.). Furthermore, costs savings on fuel are significant and the prolonged lifetime of equipment important.
Alpcon's cabin heater solution is flexible and works for internal combustion engines, hybrids or all-electric vehicles alike.